I decided to take on a small turned into a big project, and thought I would give a preview. I started it on January 24 thinking it would take a day or two... yeah... about that...
Anyway, a sneak peak at what I hope to be my favorite go to organizational tool:
If you know me, you know I love color!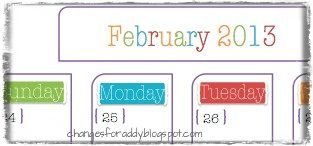 Writing goals down is an important step in achieving them.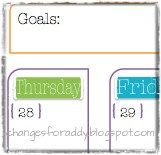 Maybe I'll be better at meal planning when it's staring me in the face everyday! It's also great to plan dinners when you know what's going on that day too.
In case you haven't figure it out, it's a planner!
I Can't wait to finish this thing up and start using it!
Have you ever diy-ed a planner?